Conference Venue
The conference will take place at Stockholm University, campus Frescati (on Friday and Saturday), and at the ABF House at Sveavägen 41 (on Sunday).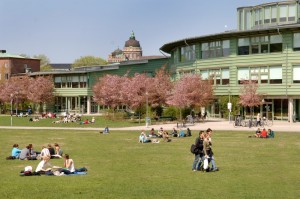 How to Get There?
You can travel to Stockholm by airplane to either Arlanda Airport or Bromma Airport. There are plenty of ground transportation options from either airport.
Arlanda Airport is the major international airport of Stockholm. To get to the Stockholm city center, you can take the high-speed train Arlanda Express, which gets you to the Central Station in 20 min (one-way 280 SEK / 30 EUR). A slower but cheaper option is the airport coaches, Flygbussarna, which depart frequently and take ca. 45 min to the city center (one-way 99 SEK / 10 EUR). If you prefer a taxi, there is a taxi stop outside each terminal building. Depending on traffic, it takes ca. 30-45 min from Arlanda to downtown Stockholm (note that the prices vary, but they should be in the range of 500-550 SEK/50-60 EUR).
Bromma Airport is mainly a domestic airport but also has some international flights. You can get from Bromma to the city center by airport coach, Flygbussarna, which takes ca. 20 min (one-way 75 SEK /8 EUR). You can also take public transportation, Bus 110 to Alvik. In Alvik, you transfer to the green line subway toward the city center (T-centralen).
You can also travel by train to Stockholm Central Station, or by long distance bus to Stockholm Cityterminal.

Stockholm has a comprehensive public transportation system, with subway, tramway, buses, and commuter trains. Please refer to the SL website for fares and information on how to plan your trip.
Please note that all participants are responsible for their own travel arrangements.
Accommodation
Stockholm has plenty of options for accommodation. Please check rates and availability through any major hotel booking site. For the easiest possible access to the conference venues, we recommend staying in the city center or in any area close to the subway's red line (which stops at Stockholm University), such as Östermalmstorg, Stadion, Tekniska högskolan, Slussen, Mariatorget, Hornstull, or Mörby centrum.